Freestone Peaches, based out of the San Francisco Bay Area, emulates the feel, excitement and energy of the Allman Brothers Band during the Duane Allman and Berry Oakley era (1969 - 1971). Filled with jam band, blues band and Allman Brother enthusiasts, this band features Ned Patchett on lead/slide guitar (Duane Allman), Jeff Faust on bass (Berry Oakley), Chris Zanardi on lead guitar (Dickey Betts), Mark Corsolini on drums (Butch Trucks), Mo Sardella on drums (Jai Johanny "Jaimoe" Johanson), Jefferson Bergey on vocals (Gregg Allman) and Sam Phelps on B3/keyboards (Gregg Allman).

Click HERE for upcoming Freestone Peaches Shows.



Russel Kreitman, Ron Tomasello, Jefferson Bergey, Mo Sardella, Chris Zanardi, Mark Corsolini, Jeff Faust
Copyright (c) 2013 Freestone Peaches. All rights reserved. Contact webmaster.
________________________________________________________________________________
Home Music Photos Videos Band Info Dates Contact Links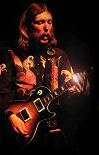 A Tribute to Duane Allman